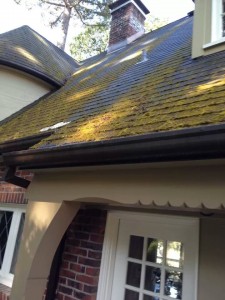 Specializing in Cleaning Composition Roofs
Sorry we don't offer Full Cleaning on tile and cedar roofs, but we do offer annual Moss Treatments.
Why Choose Green & Clean to Clean Your Roof?
No Zinc
No Bleach
No Pressure Washing
Safely clean your roof of algea, moss, mold & lichen.
Proven cleaning process that will not damage the roof.
Add years to the life of your roof.
Safe for kids, pets, plants, and watersheds.
Moss Mold, & Mildew Roof Treatment
Remove dirt and debris
Treatment of all roof areas – liquid in summer, dry in winter
Eco-friendly treatment eats away at the moss
Moss will dehydrate and fall off over time. No guarantee that moss will disappear 100%
What to Expect After a Treatment
Treatments are designed to eat away at the moss, mold, algae, & lichen. Treatments do not make the problem disappear instantly. Normal treatments take 3 to 6 months to eat away at the moss. Rain, wind, and weather will help break away moss and it will eventually disappear. Treatments are recommended each year to help prevent moss growth and to keep the roof healthy.
Full Roof Cleaning
Pre-treat roof moss – wait 7 to 10 days
Remove dirt and debris
Remove moss with brushes by hand
Rinse off roof with garden hose
Clean and flush out all gutters
Moss, mold, & mildew roof treatment
What to Expect After a Cleaning
The complete process takes several hours to remove the moss, mold, and mildew. The cleaning process normally removes 80% to 90% of the moss from the roof. Some areas may be too dangerous to reach or would cause damage to the roof if we apply too much pressure. Results can be seen immediately after completion.
*Clean and flushing the inside of the gutters does not include disassembling the gutters. Additional fees may apply if gutters need to be disassembled and dislodged.
Windows- Quote price does NOT include window washing. If there is overspray on the windows, we will rinse off the windows.
Additional fees may apply if any further cleaning is requested.
"Moss, mold, & mildew roof treatments" are recommended annually to help prevent further growth.